Cheddar
Concepts
Want to showcase Cheddar on your menu? Serve up something sensational with these innovative concepts.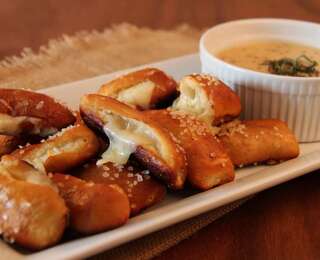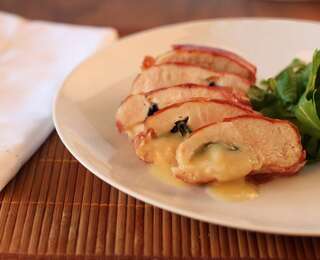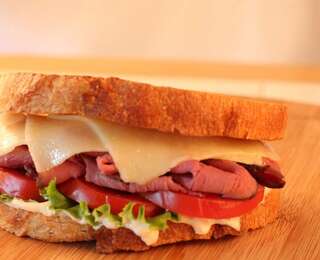 Black Diamond® Stuffed Pretzel Bites
Ingredients
| | |
| --- | --- |
| 1 1/2 cup | Warm water |
| 1/4 | Unsalted butter, melted |
| 3 tbsp. | Honey |
| 1 pack | Active dry yeast |
| 5 cups | All-purpose flour, divided |
| 8 oz. | Black Diamond Cheddar, cubed 1 inch |
| 1 large | Egg, beaten with 1 tbsp. cold water |
| 2 qt. | Water |
| 1/2 cup | Baking soda |
| 12 oz. | Pale ale |
| 1 lb. | Black Diamond Cheddar, shredded |
| 1 tbsp. | Cornstarch |
| 2 tbsp. | Whole grain mustard |
| | Coarse sea salt |
Prepare the Dough
In the bowl of a stand mixer, combine the water, butter, honey and yeast, and mix with the dough hook until combined. Let stand for 5 minutes, or until slightly foamy.
Add 4 ½ cups of flour and salt to the bowl, and mix on low speed until the dough starts to come together. Increase speed to medium and continue kneading until the dough comes together into a ball and starts to pull away from the sides of the bowl, about 3 to 4 minutes. The dough should feel slightly tacky and elastic — if it's too wet or sticky, add more flour as needed.
Transfer the dough to a lightly greased mixing bowl, turning over to coat all over with oil. Cover with a clean dishtowel or plastic wrap and place in a warm, draft-free spot until the dough doubles in size, about 1 hour.
Shape and Fill the Bites
Preheat the oven to 425°F. Lightly grease two large baking sheets with oil or cooking spray.
Remove the dough from the bowl and place on a flat surface. Roll into a flat sheet about 1/4 inch thick. Cut into 2" x 2" squares.
Place one piece of cheese in the center of each square and fold up sides around cheese pinching to close securely.
Cook Pretzel Bites
Bring the water to a boil. Add the baking soda and stir to combine.
Drop the pretzel bites in a few at a time, cooking for 15–30 seconds.
Remove from the water and arrange on a greased baking pan.
Brush each pretzel with a small amount of beaten egg and sprinkle with salt.
Bake for 10–15 minutes until golden brown and crunchy.
©2023
Lactalis Foodservice
. All rights reserved.
Pairings
Wine & Spirits
Beer
Proteins
Fruits & Vegetables
Nuts, Grains & Starches
Flavors, Spices & Condiments