Herbed Zucchini Rollatini Featuring Président® Goat Cheese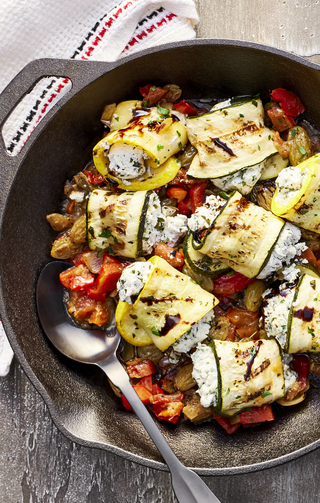 INGREDIENTS
| | |
| --- | --- |
| | Balsamic drizzle for garnish |
| | Fresh basil leaves for garnish |
| | |
FOR THE ZUCCHINI
| | |
| --- | --- |
| 2 | Medium zucchini (or yellow squash), sliced lengthwise into ¼-inch-thick strips |
| 2 tbsp. | Extra virgin olive oil |
| 1 tbsp. | Red wine vinegar |
| 1 tsp. | Fresh parsley, chopped |
| 1 tsp. | Fresh basil, chopped |
| ½ tsp. | Garlic powder |
| ½ tsp. | Onion powder |
| ½ tsp. | Smoked paprika |
| | Salt and freshly ground pepper to taste |
| | |
FOR THE FILLING
| | |
| --- | --- |
| 10.5 oz. | Président Goat Cheese |
| 1 tbsp. | Parsley, chopped |
| 1 tbsp. | Chives, chopped |
| 2 tbsp. | Tarragon, chopped |
| 1 tsp. | Garlic powder |
| | Salt and freshly ground pepper to taste |
| | |
FOR THE SAUCE
| | |
| --- | --- |
| 1 cup | Sultanas (golden raisins), plumped |
| ¼ cup | Cognac |
| 2 | Large red peppers, roasted, peeled, seeded, and diced |
| 2 tbsp. | Extra virgin olive oil |
| 1 | Medium onion, diced |
| 1 tbsp. | Garlic, minced |
| ⅓ cup | Beef stock |
| 1 tbsp. | Butter, cut into small pieces |
METHOD
FOR THE ZUCCHINI
Preheat grill to medium-high heat.

Marinate the zucchini with oil, vinegar, herbs and spices. Adjust seasoning with salt and pepper.

Grill 2 to 3 minutes per side until tender. Remove and set aside.

FOR THE FILLING
Blend Goat Cheese, herbs, and garlic powder together. Adjust seasoning with salt and pepper.

FOR THE SAUCE
Put the sultanas into a small covered bowl with the Cognac and refrigerate for
several hours or overnight.

In a large skillet, heat the oil over medium heat. Add the onion and cook until tender, about 5 minutes. Stir in the minced garlic until mixture is fragrant, about a minute.

Add the sultanas and Cognac, and simmer to reduce by half.

Stir in the peppers and beef stock. Cover and simmer the mixture over medium-low heat for about 15 minutes, until the peppers are very tender, and the mixture is thick and soft. Remove from the heat and slowly stir in the butter.

ASSEMBLY
Preheat the oven to 350 degrees F.

Spread a thin layer of Goat Cheese filling on each zucchini strip in a thin layer. Roll zucchini from end to end and place in buttered baking dish.

Bake, covered, for 10 minutes, and uncovered for 5 minutes more.

Serve warm on a bed of sauce, garnished with a drizzle of balsamic glaze and fresh basil.

©2023
Lactalis Foodservice
. All rights reserved.
Pairings
Wine & Spirits
Beer
Proteins
Fruits & Vegetables
Nuts, Grains & Starches
Flavors, Spices & Condiments